When it comes to women's backpacks, making the right choice is crucial for your travel and daily needs. Finding a backpack that perfectly suits your style, comfort, and functionality can greatly enhance your overall experience. In this guide, I will provide a comprehensive review and rank 13 women's travel backpacks, presenting you with my top recommendations, so you can pick the best one.
What Are the Best Women's Travel Backpacks?
Searching for the best women's travel backpacks? I've got you covered. Here's my comprehensive list of top picks based on practicality and functionality. Starting with my top recommendation, I'll provide you with the essential details of each backpack. No fluff, just the facts you need to make an informed decision. Say goodbye to backpacking woes and find the perfect travel companion. Let's jump right in and solve your backpacking needs.f
The Osprey Fairview 40 is an excellent travel backpack designed to provide comfort for women during one-bag travel. While it shares similarities with the Osprey Farpoint 40, it deserves its own review. The bag comes in three capacities, with the 40L version being particularly suitable for carry-on travel, depending on the airline. Its exterior is made of durable 450D recycled polyester, coated with a water-repellent finish. The design includes attachment points, reliable YKK zippers, and a comfortable harness system with well-padded shoulder straps and a contoured hip belt. The AirScape back panel ensures ventilation and support, even during extended use.
The Osprey Fairview 40 offers ample storage space and thoughtful compartmentalization. The front stash pocket allows for easy access to items, such as a water bottle or gear, and there are additional attachment points for securing items. The bag features a laptop compartment, conveniently positioned on the side for better weight distribution. The main compartment opens fully and can accommodate packing cubes, aiding in organization. The comfortable harness system, with its adjustable straps and shaped hip belt, makes carrying the bag a breeze.
In summary, the Osprey Fairview 40 is a durable and functional travel backpack designed specifically for women. Its versatility, comfort, and storage capacity make it ideal for one-bag travel. While it may not prioritize fashion, it excels in functionality and durability.
What We Love:
Designed specifically for women with a comfortable harness system
Durable exterior material with a water-repellent coating
Ample storage space with compartments for organization
What We Don't Love:
The large hip belt can be slightly cumbersome during the process of putting on the backpack
The front stash pocket's capacity is reduced when the main compartment is fully packed
Accessing the laptop compartment requires unpacking the backpack
Technical Details:
Carry-on Compliance: View 54/145 Airlines Carry-on Compliance
Capacity: 40L
Weight: 3.41 lb (1.5 kg)
Dimensions: 22 in x 14 in x 9 in (55.9 x 35.6 x 22.9 cm)
Notable Materials: Recycled Polyester, DWR Coating, Recycled Nylon, YKK Zippers, ITW Hardware
Manufacturing Country: Vietnam
Laptop Compartment Size: 16″
Warranty Information: All Mighty Guarantee
Buy on Amazon.com
The NOMATIC Travel Pack is a versatile and functional backpack designed for everyday use and shorter trips ranging from 1-3 days. Crafted with durable and water-resistant materials, this bag features expandable storage, allowing you to pack more when needed. Its patent-pending strap system offers the flexibility to switch between backpack and briefcase carry, making it suitable for both casual and professional settings. With over 20 noteworthy features, including a full-perimeter zipper, magnetic water bottle pockets, RFID safe storage, and hidden compartments, the NOMATIC Travel Pack combines functionality with a sleek minimalist design.
What We Love:
Expandable storage capacity
Versatile strap system for backpack and briefcase carry
Sleek minimalist design
What We Don't Love:
Waist straps not included
Limited information about specific organizational features
Technical Details:
20L Travel Pack:

Weight: 4.16 lbs
Capacity: 20L – 30L (expanded)
Outer Dimensions: 18.5″ H x 12″ W x 6-9.5″ D
Laptop Compartment: 16″ x 10.5″ x 1.5″

14L Travel Pack:

Weight: 3.5 lbs
Capacity: 14L – 21L (expanded)
Outer Dimensions: 17.5″ H x 11″ W x 5.5″-8″ D
Laptop Pocket: 14.5″ x 10″ x 1.5″
Buy on Amazon.com
Monos Metro
The Metro Backpack stands out with its sleek and minimalist design, making it a versatile choice for various settings. Monos, a Vancouver-based luggage company, has focused on delivering premium, minimalist luggage that meets the criteria of design, quality, and affordability. They have filled a gap in the market by offering functional and stylish bags built with the finest quality materials at a fair price. Monos is also the first luggage brand to be Climate Neutral Certified, demonstrating their commitment to sustainability.
The Metro Backpack is more than just a backpack—it's a 2-for-1 deal. It consists of the main Metro Backpack and the detachable Metro Classic Kit, a zippered pouch at the front. The bag is made with premium nylon twill, featuring simple vegan leather accents, and is water and scratch-resistant. It offers a 15-inch laptop compartment, a hidden back pocket with a magnetic snap closure, and a privacy compartment for gym clothes or wet items. The backpack includes a zippered pouch, two interior pockets, and a large sleeve lined with soft PET felt for enhanced organization. Additionally, it features a built-in trolley sleeve for easy attachment to a suitcase handle while traveling.
What We Love:
Sleek and minimalist design
Roomy interior with functional pockets and compartments
Built-in trolley sleeve for seamless travel
What We Don't Love:
Higher price range compared to other backpacks
Exposed snaps when the front pouch is removed
Technical Details:
Metro Backpack:

Exterior Measurements: 11.5″ × 16.5″ × 6″
Weight: 2.4 lb (nylon) / 3 lb (vegan leather)
Volume: 18L

Metro Classic Kit:

Locks onto the main bag with the QuickSnap™ feature
Made with water-resistant ultra-microfiber vegan leather
Features zippered and additional pockets, and a removable carabiner for keys or fobs
Aer Travel Pack 2
The Aer Travel Pack 2 is a durable and versatile travel bag that offers excellent functionality. Made with 1680D Cordura ballistic nylon, this pack ensures durability and can withstand wear and tear. It features compression straps, making it suitable for both weekend getaways and week-long work trips. The clamshell opening main compartment is structured with foam, allowing for easy packing with or without packing cubes. The back panel and shoulder straps are padded and breathable, providing comfort during extended wear. Overall, the Aer Travel Pack 2 is a fantastic choice for those seeking versatility.
What We Love:
Comfortable and adjustable harness system
Compressible design for efficient packing
Suitable for 3-7 day trips
Versatile and well-organized
Lockable zippers for added security
What We Don't Love:
Compression straps can be cumbersome when accessing the main compartment
Volume to weight ratio is not optimal
Technical Details:
Material: 1680D Cordura ballistic nylon
Weight: 3.7 pounds
Capacity: 33 liters
Pacsafe Venturesafe Travel Pack 45L
The Pacsafe EXP45 Travel Backpack presents a sleek and functional solution for travelers seeking a trustworthy bag. Crafted from top-notch materials, it offers durability while maintaining a stylish appearance. Despite its 45-liter capacity, the backpack appears smaller than expected, boasting a well-balanced design that evenly distributes weight for comfortable wear. The black color option adds a touch of sophistication while also ensuring practicality by concealing dirt.
What We Love:
High-quality, durable material
Sleek design with a slim profile and no loose straps
Ample storage space with a wide-open main compartment
What We Don't Love:
Lack of a dedicated back pocket for quick access to small items
Absence of a laptop pocket with backside access
Slightly heavier compared to other backpacks
Technical Details:
Material: Premium, durable fabric.
Size: 45 liters.
Zippers: Heavy-duty and securely interlocked.
Locking System: Roobar with optional lock usage.
Laptop Compartment: Well-padded and protected, but lacks backside access.
Straps: Padded shoulder straps and tuck-away waist straps.
Additional Features: Water bottle holder, internal pockets for organization.
The Osprey Aura AG 65L pack is a reliable and versatile choice for backpackers, from beginners to thru-hikers. With its comfortable design, specifically tailored for women, this pack offers durability and adaptability for various outdoor activities. It has been extensively used by the reviewer for overnight trips, car camping, base camping, and even a 500-mile thru-hike, proving its reliability in different scenarios.
What We Love:
Durability: The Osprey Aura AG 65L pack has demonstrated exceptional durability, surviving harsh conditions, rain, falls, and extended use without any damage or tears. Additionally, Osprey provides a lifetime warranty, ensuring peace of mind and quick resolution for any potential issues.
Suspension and comfort: The AG (Anti-Gravity) design of the pack provides a lightweight perimeter frame and continuous breathable mesh that hugs the wearer's back and hips, offering stability and superior comfort during long hikes.
Adjustability and capacity: The pack's adjustable torso length, load lifter straps, and removable 5L brain provide customization options and ample storage space. The reviewer appreciated the pack's versatility in accommodating different gear and personal preferences.
What We Don't Love:
Weight: Weighing 4.7 pounds, the Osprey Aura AG 65L pack leans toward the heavier side due to its cushioning and suspension features. While it remains suitable for moderate overnight trips, it may not be the ideal choice for extended thru-hiking journeys.
Ease of use: While the pack offers ample organizational pockets, the integrated design of the back panel and waist belt can make it slightly challenging to open and adjust. Similarly, adjusting the torso length may require additional guidance for first-time users.
Weather resistance: The pack lacks water resistance, which means gear can get wet during rainy conditions. The reviewer suggests using a durable garbage bag as an inner liner to mitigate this issue.
Technical Details:
Model: Osprey Aura AG 65L (2016 version)
Gender: Women's
Size: Large
Pack capacity: 65L
Weight: 4.7 pounds
Features: Adjustable torso length, women-specific Anti-Gravity suspension, breathable shoulder harness and hip belt, multiple zippered pockets, removable top brain, aluminum frame, sleeping bag compartment, outer tiedown straps
Buy on Amazon.com
Patagonia Women's Refugio
The Patagonia Refugio Backpack is a lightweight and versatile pack suitable for both outdoor adventures and everyday use. Its durable materials and outdoorsy features make it a reliable choice for those who enjoy exploring the great outdoors. Additionally, its low-profile design and comfortable carrying make it suitable for everyday carry purposes. The backpack is available in both men's and women's versions, with slight differences in size and harness system to accommodate different body types.
What We Love:
Lightweight and comfortable: The Refugio Backpack is designed to be lightweight and comfortable, making it ideal for carrying long distances. The padded back panel and shoulder straps, along with the Airflow Mesh, provide comfort and prevent excessive sweating during hikes.
Wide and stretchy water bottle pockets: The backpack features spacious water bottle pockets on both sides, allowing for easy access and accommodating larger items such as tripods or hiking poles. The elastic mesh material stretches from the front to the back of the pack, providing flexibility for various gear.
Vertical quick grab pocket: The front pocket with a vertical zipper allows for quick and easy access to frequently needed items. This feature is especially convenient when you want to grab something without fully removing the pack.
What We Don't Love:
Compression straps blocking main compartments: The compression straps on the sides can block access to the main compartments when tightened, which can be frustrating when trying to retrieve items from inside the bag.
Pockets not being liter independent: The compartments of the backpack are not liter independent, meaning that the space in each compartment is affected by the items packed in other compartments. This can limit the overall storage capacity and organization options.
Limited capacity options for the women's version: The women's version of the backpack is only available in a 26L capacity, which may be insufficient for those who require more space. Having a slightly larger capacity option would provide more flexibility for different needs.
Technical Details:
Capacity: 28L (Men's version), 26L (Women's version)
Weight: 1.32 lb (0.6 kg)
Materials: Recycled Polyester, Nylon, DWR Coating, Polyurethane
Laptop Compartment Size: 15″
Warranty: Patagonia Ironclad Guarantee
The Deuter AirContact Lite 60+10 SL is a women's backpack that combines simplicity with comfort and is available at a relatively affordable price. With a low-profile and collapsible waistband, this pack is easy to store and offers excellent support for carrying heavy loads. The well-padded back panel and shoulder straps provide comfort during extended hikes, while the extra padding in the lower back adds to the overall support. The pack is highly adjustable, making it suitable for various torso lengths. However, the waistband and high pack frame can feel bulky for smaller individuals.
What We Love:
Comfortable: The AirContact Lite is designed with thick padding in the back panel and shoulder straps, offering a comfortable carrying experience. The extra support in the lower back adds to the overall comfort during long hikes.
Adjustable: This pack provides ample adjustability, allowing users to customize the fit according to their body size and preferences. The adjustable torso length ensures a proper fit and effective weight distribution.
Works well with heavy loads: The pack is capable of comfortably carrying heavy loads, making it suitable for multi-day trips or backpacking adventures. It offers stability and support, even when carrying loads exceeding 50 pounds.
What We Don't Love:
Lacks features: The AirContact Lite has a simple design and lacks additional features and pockets. While this simplicity can be appealing for some, those seeking more organization options may find it limiting.
Bulky waist belt: The waist belt, although well-padded, can feel bulky for smaller individuals. This may impact overall comfort, especially during extended hikes.
Pack is tall and may cause head bumps: The height of the pack's frame can lead to accidental head bumps, particularly when walking on rough terrains or uphill. This design aspect may be a minor inconvenience for some users.
Technical Details:
Manufacturer: Deuter
Weight: 4.3 pounds
Organizational Systems: Main compartment with three access points, sleeping bag compartment with arched zipper
Adjustability: Adjustable shoulder straps, torso length, and waist belt
Price: $220 (list price)
Overall Score: 55/100
Buy on Amazon.com
Kelty Women's Redwing 40
The Kelty Women's Redwing 40 Backpack offers a comfortable harness system and quick access pockets, making it a suitable choice for outdoor adventures. The adjustable harness system is designed specifically for women's bodies, providing a customized fit. The pack features multiple adjustment points on the shoulder straps, sternum strap, and hip belt, allowing for optimal comfort and weight distribution. With its lightweight construction, the Redwing 40 is a convenient option for those who prefer a lighter load.
What We Love:
Comfortable harness system: The pack's harness system is designed with women's bodies in mind and offers a comfortable fit. The adjustable shoulder straps, sternum strap, and hip belt allow for a personalized fit and effective weight distribution.
Quick access compartments and pockets: The Redwing 40 features various compartments and pockets that provide easy and convenient access to your belongings. Quick grab handles, external stash pockets, and zippered compartments offer practical storage solutions.
Lightweight: Weighing in at just 2.65 pounds, this backpack is lightweight, making it ideal for those who prioritize a lighter load. The use of lightweight materials contributes to the overall comfort and ease of carrying.
What We Don't Love:
Dangling straps: The backpack has several external straps that can dangle and get in the way. This may be a minor annoyance for some users who prefer a cleaner and more streamlined appearance.
Difficult access to laptop compartment: When the bag is fully packed, accessing the laptop compartment can be challenging. This design aspect may inconvenience users who frequently need to retrieve or store their laptops.
Thin polyester fabric: The backpack's thin polyester fabric, while lightweight, may not be as durable as similar packs on the market. Users should be mindful of potential wear and tear, especially during rugged outdoor activities.
Technical Details:
Carry-on Compliance: Not specified
Capacity: 40 liters
Weight: 2.65 pounds (1.2 kg)
Material: Poly 420D Small Back Stafford, Poly 75x150D Tasser Coal, Aluminum, HDPE
Dimensions: 23 in x 14 in x 12 in (58.4 x 35.6 x 30.5 cm)
Laptop Compartment Size: Fits up to 15″ laptops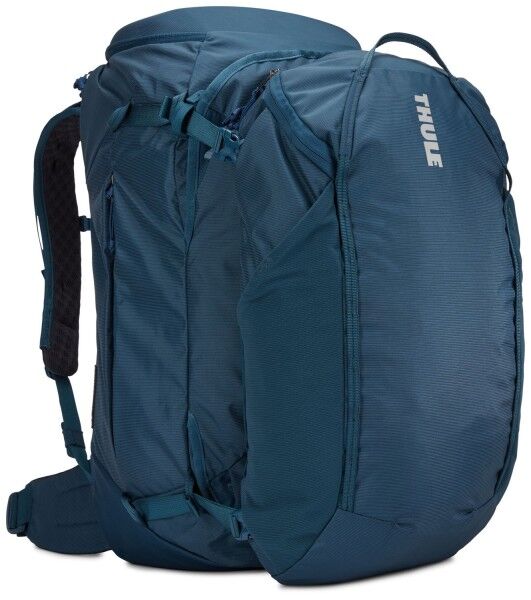 The Thule Women's Landmark 60L Backpack is a versatile travel companion designed to comfortably carry your personal and work gear. With its removable 20L daypack and padded sleeve for a 15″ MacBook laptop, this backpack offers convenient organization and protection. The backpack features a range of compartments, including a front interior zip pocket, a side zip pocket, and a SafeZone compartment for safeguarding small valuables. The gear-securing compression straps ensure your belongings stay in place, while the padded shoulder straps, sternum strap, and waist belt provide a comfortable and secure carry. The padded back panel enhances comfort and airflow during extended use.
What We Love:
Removable 20L daypack: The Landmark 60L includes a detachable daypack, offering flexibility and convenience. The daypack features storage for a 15″ MacBook, a breathable back panel, and a covert CashStash pocket for money and personal items.
SafeZone compartment: This backpack includes a dedicated compartment for protecting and organizing your phone, sunglasses, cords, and other small valuables. The SafeZone compartment ensures easy access and peace of mind.
Carry-on compatibility: When the daypack is removed, the Landmark 60L can be used as a carry-on bag, providing convenience and versatility for travel.
What We Don't Love:
Tucking away shoulder straps and hip belt: While the option to tuck away the contoured shoulder straps and hip belt when not in use is practical, it may result in wear and tear over time.
Lack of included TSA locks: The LoopLocks on the zipper pulls offer added security, but TSA locks need to be purchased separately to fully utilize this feature.
Limited color options: The Landmark 60L is currently available in dark Bordeaux, which may not appeal to users seeking a wider range of color choices.
Technical Details:
Material: 420D Dobby polyester, 600D polyester
Volume: 60 liters
Dimensions: 17.7 x 13 x 21.5 in
Weight: 4.05 lb
Buy on Amazon.com
The Gregory Women's Maven 55 backpack delivers a lightweight and comfortable design without compromising on support. Ideal for overnight to multi-day trips, this backpack features the FreeFloat dynamic hipbelt and includes a rain cover. With a focus on comfort and usability, the Maven 55 has received positive feedback from backpacking enthusiasts.
What We Love:
True to size and adjustable: Users appreciate the accurate sizing and the ease of adjusting the backpack to fit different body types.
Built-in rain cover: The inclusion of a built-in rain cover eliminates the need to pack an additional item, ensuring convenience and protection in unpredictable weather conditions.
Hip belt padding: The well-padded hip belt provides added comfort during extended hikes, making it a valuable feature for users.
What We Don't Love:
Finicky magnetic clip for the hydro bladder: Some users found the magnetic clip for the hydro bladder to be unreliable, with the mouthpiece frequently falling off.
Limited size options: The backpack is only available in S/M and XS/S sizes, which may restrict accessibility for individuals requiring larger pack sizes.
No built-in daypack: Unlike the older model, the Maven 55 does not include a built-in daypack, which may be a personal preference for some users.
Technical Details:
Material: 40% Post-Consumer Recycled Polyester lining
Exterior pockets: 6
Built-in rain cover: Yes
Water-resistant hip belt pockets: Yes
Sleeping bag compartment: Yes
Front mesh pocket with buckle: Yes
Trekking pole loops: Yes
Hydration reservoir sleeve: Yes
Breathable 3D foam back panel: Yes
Buy on Amazon.com
The Fjällräven Kajka 65L Pack is a well-built and durable backpack that offers excellent performance in the Colorado Backcountry. Made with high-quality materials, including a unique wooden frame constructed from birch wood, the Kajka exudes durability and a reduced environmental impact. The pack features a spacious main compartment, multiple pockets, and thoughtful design elements that make it a versatile and functional choice.
What We Love:
Perfect Fit Adjustment System: The backpack's adjustable torso and shoulder width allow for a customized fit, ensuring optimal comfort during long hikes.
Sturdily made with water-resistant Vinylon fabric and FSC-certified birch frame: The use of durable materials and a robust wooden frame contribute to the pack's longevity and ability to withstand tough conditions.
Detachable lid and high-visibility rain cover: The pack includes a detachable lid that offers extra storage and doubles as a day pack, while the attached rain cover provides protection and visibility on gray days.
What We Don't Love:
Heavyweight: The Kajka weighs just over 7 lbs, making it one of the heavier backpack options available. However, the exceptional suspension system and comfortable padding help mitigate the extra weight when worn.
Higher cost: With a price tag of $370, the Kajka is on the pricier side. While the pack offers great value for the price, budget-conscious buyers may need to consider cost-saving options.
Limited availability and hands-on experience: Fjällräven products are not widely available in retail stores, which can make it challenging to assess and try out the Kajka in person before purchasing.
Technical Details:
Perfect Fit Adjustment System allows adjustable torso and shoulder width
Water-resistant Vinylon fabric and FSC-certified birch frame construction
Top opening with zippered front panel for easy access to contents
Detachable lid that functions as an additional storage compartment and day pack
High-visibility rain cover included
Internal hydration system compatibility
Wet/dry storage compartments for separating damp and clean items
Gear loops for ice axe or trekking poles
In conclusion, the Fjällräven Kajka 65L Pack impresses with its durability, thoughtful design, and versatile features. Despite being a heavier pack, its comfort and adjustability compensate for the added weight. The use of high-quality materials and environmentally friendly construction further enhances its appeal. While the higher price tag and limited availability may be drawbacks for some, the Kajka remains a top choice for backpackers seeking a reliable and well-designed pack for their outdoor adventures.
Buy on Amazon.com
REI Co-op Women's Trail 40 Pack
The REI Co-op Trail 40 pack is a versatile and durable backpack that excels in day hikes, overnight trips, and travel adventures. Designed with a women-specific fit, the pack offers a comfortable carry with contoured foam in the harness and hipbelt. Made from recycled materials, including the body and lining fabric, the Trail 40 demonstrates a commitment to sustainability. Its features include a U-shaped panel opening for easy gear access, multiple pockets for organization, and a detachable lid that doubles as a day pack.
What We Love:
Women-specific fit with adjustable torso and shoulder width: The Trail 40 ensures a comfortable and customized fit for female backpackers, enhancing overall comfort during hikes.
Durable construction with recycled materials: The use of recycled ripstop nylon and bluesign®-approved materials not only makes the pack sturdy but also reduces environmental impact.
Versatile design with ample storage options: The pack offers multiple exterior pockets, a hydration reservoir sleeve, wet/dry storage compartments, and gear loops for ice axes or trekking poles, allowing for efficient organization and easy access to gear.
What We Don't Love:
Relatively heavy weight: Weighing over 2 lbs. 13 oz. for the small size and 2 lbs. 15 oz. for the medium size, the Trail 40 is considered heavier compared to other backpack options. However, the pack's comfort and performance compensate for the added weight.
Higher cost compared to some alternatives: With a price around $150, the Trail 40 may be pricier for budget-conscious buyers. However, the pack's durability and versatility make it a worthwhile investment.
Limited availability and hands-on experience: Some customers may find it challenging to find retail stores that carry the REI brand, making it difficult to try out the Trail 40 in person before purchasing.
Technical Details:
Best Use: Hiking
Frame Type: Internal Frame
Gear Capacity: 40 liters (2,441 cubic inches)
Weight: S: 2 lbs. 13 oz., M: 2 lbs. 15 oz.
Fits Torso Length: S: 16-18 inches, M: 17-19 inches
Fits Waist/Hips: S: 26-38 inches, M: 28-40 inches
Material: Recycled ripstop nylon; recycled nylon (bluesign® approved)
Frame Material: Perimeter spring steel
Pack Access: Panel
Number of Exterior Pockets: 6 + main compartment
Hipbelt: Yes
Hipbelt Pockets: Yes
Raincover Included: Yes
Reservoir Compatible: Yes
Dimensions: S: 20.25 x 13.125 x 10.5 inches, M: 21.6 x 13 x 10.5 inches
Sustainability: Contains materials that meet the bluesign® criteria, Contains recycled materials
In summary, the REI Co-op Trail 40 pack impresses with its durability, sustainability, and versatile design. While it may be relatively heavier and pricier compared to some alternatives, its comfortable fit, ample storage options, and high-quality construction make it a reliable choice for hiking and travel. With its commitment to sustainability through the use of recycled materials, the Trail 40 aligns with eco-conscious values. Overall, it is a recommended option for adventurous female backpackers seeking a well-rounded and dependable backpack for their outdoor pursuits.
How to Choose the Best Travel Backpack for Women
Size and Capacity should be the foremost consideration when choosing the best travel backpack for women. This is largely dependent on the length and nature of your travel. Shorter trips typically require a smaller backpack, while longer journeys may necessitate a larger capacity. Backpack sizes are often measured in liters (ranging from about 15 to 85 liters), so decide how much you need to carry and choose accordingly. You want to ensure your bag is large enough to hold your essentials but not so large that it becomes a burden. In terms of body size, the backpack should not be longer than your torso. Remember that carrying a pack that is too large can lead to shoulder, back, or neck pain, so consider trying on different sizes before making a decision.
Comfort and Fit are other crucial factors. A travel backpack will be your constant companion on your journey, so it needs to be comfortable. Look for features such as padded shoulder straps, a padded back, and a sternum strap that can distribute weight evenly across your body. Another important aspect is whether the backpack is specifically designed for women. Some brands offer women-specific backpacks, which are designed to fit the generally narrower shoulders and shorter torsos of women better than unisex backpacks. Additionally, consider the weight of the backpack itself; lighter options might be more comfortable, especially for long periods of carrying.
Last but not least, Durability and Features. The backpack you choose should be durable and able to withstand the rigors of travel. Look for strong, robust materials like ripstop nylon or polyester, and pay attention to the quality of the zippers and seams. Features like multiple compartments for organization, a laptop sleeve if you're carrying a computer, waterproofing for outdoor trips, or lockable zippers for added security can make your travel experience more enjoyable and stress-free. And of course, don't forget to choose a backpack that suits your personal style and taste. With the multitude of designs and colors available, you can find something functional and fashionable.
Best Lightweight Backpack for Women
Winner: Troubadour Ki
The Troubadour Ki Backpack is an elegant and versatile women's travel daypack that combines style and functionality. Its minimalist design and comfortable fit make it an excellent choice for those seeking a backpack-purse hybrid. The backpack's features, such as the laptop pocket, multiple pockets, lightweight build, and beautiful materials, make it stand out in terms of both practicality and aesthetics. With its thoughtful design and attention to detail, the Ki Backpack is a top contender in the realm of compact and fashionable travel backpacks.
What We Love:
Super lightweight build: Weighing only 2.2 lbs (1 kg), the Ki Backpack is remarkably light, ensuring a comfortable carrying experience without sacrificing durability.
Great size for petite women: With its narrow straps and 10.5″ width, the backpack is designed to fit petite frames perfectly, providing a snug and comfortable fit.
Impressive materials and beautiful fabrics: The backpack's polyester fabrics are not only visually appealing but also eco-friendly, as they are made from recycled polyester. The vegan leather accents add a touch of luxury and style.
What We Don't Love:
Limited volume: With a 10L capacity, the Ki Backpack may not accommodate larger items or extensive packing needs. It is best suited for carrying essential daily items and accessories.
Higher price range: Priced at $245, the Ki Backpack falls into a higher price range. While the quality and design justify the cost, it may not be within everyone's budget.
Limited color availability: The backpack's color options may be limited, depending on availability, which could restrict personal style preferences.
Technical Details:
Brand: Troubadour
Weight: 2.2 lbs (1 kg)
Materials: Recycled polyester, vegan leather
Laptop Sleeve: Fits up to a 16″ laptop
Closure: Magnetic flap closure
Pockets: Multiple pockets for efficient organization
Back Panel: Breathable tailwind back panels for added comfort
Luggage Handle Pass-through: Convenient trolley sleeve for easy transport
Warranty: Five-year guarantee against manufacturing faults
Return Policy: 100-day return window with full refund and original tags required
Best Carry-On Backpack for Women
Winner: L.L.Bean Stowaway Pack
The L.L.Bean Stowaway Day Pack is a lightweight and packable backpack designed for travelers and outdoor enthusiasts. With its convenient size, it can be easily carried as a carry-on, making it suitable for various travel styles. The backpack features multiple pockets, including a front "shove it" pocket for quick-grab items and two stretchy water bottle pockets. The main compartment offers ample space for your daily essentials and can be accessed through a panel-loading zipper.
One of the standout features of this backpack is its use of recycled materials. The bluesign-approved 70D recycled polyester ripstop shell ensures durability while minimizing its environmental impact. The YKK zippers used in the backpack are known for their quality and reliability, offering peace of mind during your travels. The harness system and back panel feature breathable Air Mesh for added comfort, although the padding is on the thinner side. The sternum strap and hip belt provide additional support, although the hip belt lacks cushioning.
What We Love:
Stretchy water bottle pockets that can accommodate various items
Lightweight material that doesn't feel heavy even when fully packed
Breathable and comfortable mesh back panel
What We Don't Love:
Compression straps that block the main zipper, causing inconvenience
Front pocket without a zipper, making it susceptible to rain and pickpocketing
Lack of strap keepers on the shoulder straps
Technical Details:
Carry-on Compliance: 86%
Capacity: 22L
Weight: 14 oz (396.9 g)
Material: Bluesign-approved recycled polyester ripstop shell
Dimensions: 19 in x 10 in x 7 in (48.3 x 25.4 x 17.8 cm)
Notable Materials: YKK Zippers, Duraflex Hardware
Manufacturing Country: Vietnam
Warranty Information: L.L.Bean Guarantee
In summary, the L.L.Bean Stowaway Day Pack is a solid choice for travelers in need of a lightweight and packable backpack. Its thoughtful design and use of recycled materials make it a sustainable option. While there are a few minor drawbacks, such as the compression straps blocking the main zipper and the front pocket lacking a zipper, the overall performance and functionality of this backpack are commendable.
Best Hiking Backpack for Women
Winner: Osprey Women's Kyte 46
The Osprey Kyte 46 is a small but powerful backpack designed for high abrasion activities and rough terrains. It offers exceptional comfort and is capable of handling technical gear with ease. Despite its compact size, the Kyte 46 provides ample storage space for most backpacking trips. The pack's durability and streamlined features make it a great choice for those who prefer a lighter and more minimalist setup. While it may not be suitable for carrying heavier or bulkier gear, the Kyte 46 excels in providing comfort, functionality, and versatility.
What We Love:
Durable construction and comfortable even with heavier loads.
Streamlined features and excellent attachment points on the outside of the pack.
Integrated rain cover for added protection.
What We Don't Love:
The main compartment is somewhat narrow, limiting packing options.
The water bottle holster is awkwardly designed and may not fit larger bottles.
Requires thoughtful packing due to limited space.
Technical Details:
Manufacturer: Osprey
Weight: 3.6 pounds
Adjustability: Average
Overall Capacity: 46 liters
Best Stylish Backpack for Women
Winner: Fjallraven Kanken Classic
The Fjallraven Kanken Classic is a popular unisex backpack known for its traditional look and solid build. It offers a timeless design and includes a laptop sleeve, making it a versatile choice for everyday use. The backpack's canvas material is durable and long-lasting, ensuring it can withstand regular wear and tear. With a wide range of colors to choose from, there is an option to suit everyone's style preferences. The Kanken Classic features an overhanging flap for additional weather protection and security, as well as a 2-way zip in the main compartment for easy access. It also comes with a removable back padding that doubles as a seat mat, adding convenience for outdoor activities.
What We Love:
Durable canvas material for long-lasting use.
Overhanging flap and 2-way zip for added weather protection and easy access to the main compartment.
Removable back padding that can be used as a seat mat.
What We Don't Love:
Side pockets are too small for most water bottles.
Not suitable for carrying loads exceeding 15 lbs.
Strap adjustment could be improved.
Technical Details:
Materials: Vinylon F.
Dimensions: 5.1″ x 10.61″ x 15″
Capacity: 16 Liters
Weight: 10.6 ounces
Colors: Acorn, Graphite, Ox Red, Leaf Green, Flamingo Pink, Deep Red, Dahlia, Sky Blue, Spicy Orange, Un Blue, Warm Yellow, Royal Purple, Navy, Ochre, etc.
Best Laptop Backpack for Women
Winner: Herschel Supply Co. Women's Little America Laptop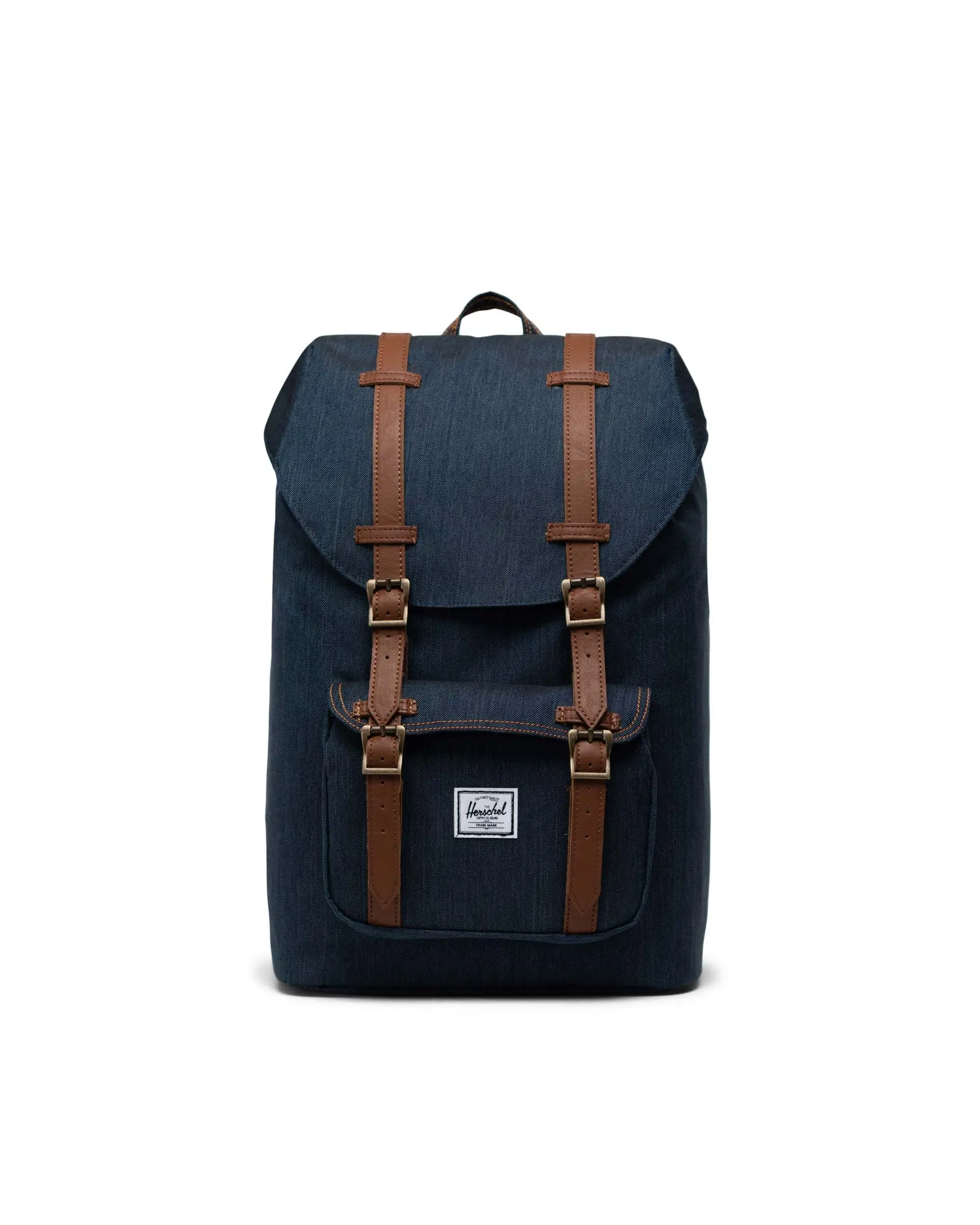 The Herschel Supply Co. Little America Backpack offers versatility and comfort, making it a suitable choice for everyday use and shorter trips. With its modern aesthetic and classic accents, this backpack has a casual vibe that appeals to many. The materials used are of decent quality, although not as durable as some other options. The bag features a top-loading design with magnetic snap fasteners, providing both weather resistance and security for your belongings. It has a 25L capacity, offering ample space for everyday gear and essentials.
What We Love:
Densely-padded harness system for comfortable carrying.
Sufficient room for everyday items and overnight/shorter trips.
Soft fleece lining and false bottom in the laptop compartment for added protection.
What We Don't Love:
Limited organization for smaller items.
The front flap can come undone easily when the bag is fully packed.
The material feels crispy and less durable compared to other backpacks.
Technical Details:
Carry-on Compliance: 85%
Capacity: 25L
Weight: 2.35 lb (1.1 kg)
Dimensions: 19.25 in x 11.25 in x 7 in (48.9 x 28.6 x 17.8 cm)
Notable Materials: Polyester, YKK Zippers, Duraflex Hardware
Laptop Compartment Size: 15″
Warranty Information: Customer Service
Best Compact Backpack for Women
Winner: Athleta Excursion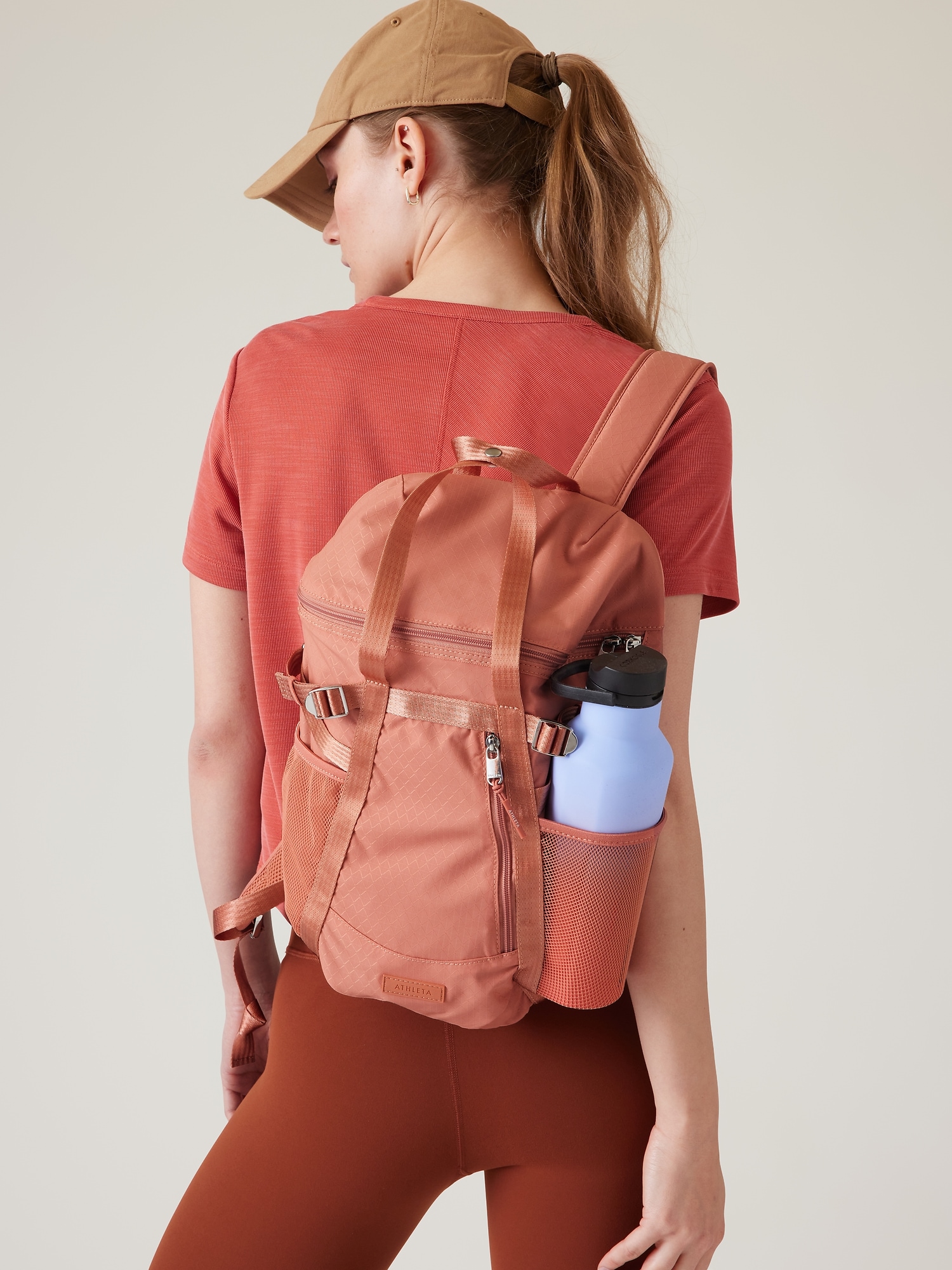 For those seeking an easy sporty look, the Athleta Excursion Backpack is a fantastic choice. It strikes the perfect balance between lightweight design and spaciousness, making it suitable for various activities such as travel, hikes, or everyday errands. The backpack is made from recycled polyester, ensuring sustainability while also being easy to clean.
The backpack is loved by many for its everyday carry functionality. It is smaller than a standard backpack, making it perfect for lighter loads and daily essentials. The snapdragon color adds a touch of vibrancy to its appearance. While it may not accommodate a laptop, it fits an iPad comfortably. The water bottle holders are suitable for standard-sized bottles, and users have found them useful for storing sunglasses cases and sunscreen. The backpack offers plenty of internal pockets for better organization. Although some users have experienced issues with the key clip, it is easily fixable.
What We Love:
Versatile size for everyday carry
Vibrant snapdragon color
Ample internal pockets for organization
What We Don't Love:
Inadequate space for larger loads
Front strap flops forward if double straps are not snapped
Key clip may require occasional maintenance
Technical Details:
Weight: Lightweight design
Material: High-quality material
Water bottle holders: Suitable for standard-sized bottles
Pockets: Multiple internal compartments for organization
Size: Smaller than a standard backpack
Final Thoughts on the Best Women's Backpacks for Travel
When it comes to finding the best women's backpacks for travel, there are several key factors to consider. First and foremost, the backpack should be carry-on size, allowing you to easily navigate through airports and transportation hubs without the need to check it in. A carry-on travel backpack provides the convenience and peace of mind that your belongings are always within reach.
In addition to the practicality of a carry-on backpack, it's essential to choose one that offers great features. Whether it's the organizational compartments, comfortable straps, or stylish design, the right backpack can enhance your travel experience. From stylish travel backpacks for women to backpacking backpacks and Tortuga travel backpacks, there is a wide range of options available.
Selecting the best travel backpack involves finding the perfect fit for your needs and preferences. Consider the size that best suits your packing requirements, ensuring it can accommodate your travel gear. Whether you're a frequent traveler or a newbie, finding the right backpack is crucial. With the right choice, you can have a travel companion that is both functional and fashionable, catering to a range of travel styles.
In conclusion, the best women's backpacks for travel are those that offer a great combination of features, versatility, and style. With options available for petite travelers and specific carry-on travel backpacks for women, there is something for everyone. Whether you're embarking on a weekend getaway or a long-term adventure, finding the perfect backpack is a thoughtful process that ultimately leads to a more enjoyable and stress-free travel experience.
Women's Travel Backpacks FAQ
What is a carry-on backpack and why should I consider using one for travel?
A carry-on backpack is a type of backpack that meets the size requirements set by airlines for carry-on luggage. It allows you to bring your belongings onboard the airplane with you, eliminating the need to check in a larger suitcase. With its compact size and convenient design, a carry-on backpack offers the flexibility and freedom to travel light and efficiently.
How can I find the best travel backpack that suits my needs?
If you're looking for the best travel backpack, consider factors such as size, storage capacity, comfort, and durability. Look for backpacks that offer a perfect fit for your specific requirements. Reading reviews, seeking recommendations, and exploring different options will help you find the ideal backpack for your travels.
Can men also use backpacks made for women?
Yes, backpacks made for women can be used by men as well. While these backpacks may be designed with women's preferences in mind, they are not limited to gender-specific use. Men can benefit from the features and style of women's travel backpacks if they meet their individual needs and requirements.
What makes a backpack perfect for travel?
A perfect travel backpack is one that combines functionality, durability, and style. It should have features like ample storage, comfortable straps, organizational compartments, and easy access to belongings. A backpack that is lightweight, versatile, and designed for travel will enhance your overall travel experience.